"This first instalment of a planned series is a great hybrid of horror and mystery (think Buffy the Vampire Slayer meets Veronica Mars) with oodles of potential for humour and terror – and Deen gets the most out of both."
~ Quill & Quire
"Guardian is at its heart a murder mystery and a superb one at that."
~ CanLit for Little Canadians Blog
"This mix of mystery and fantasy in Guardian is unusual, perhaps, but effective. Highly Recommended."
~ CM Magazine
Moonbeam Award Winner, Sci-Fi/Fantasy, 2016 (Gatekeeper)
CCBC Best Pick for Kids & Teens, 2015 (Gatekeeper)
Moonbeam Award Winner, Sci-Fi/Fantasy, 2015 (Guardian)
CCBC Best Pick for Kids & Teens, 2015 (Guardian)
Gatekeeper
A month after solving her first murder (and almost getting killed in the process), Maggie Johnson and her soul brother Serge Popov are hoping for some peace and quiet to figure out…well, everything. But the dead wait for no one. Especially a dead guy like Kent Meagher. He was every parent's dream, the kind of good kid who excelled at school, and never caused trouble. And he was the kind of guy all the guys liked. Add in a hot factor that made him every girl's fantasy, and he was the least likely person to be murdered. So who tossed him off a cliff? Maggie's determined to find the killer but if she's not careful, she'll end as dead as the soul she's trying to save.
Guardian
For seventeen-year-old Maggie Johnson, transitioning the dead isn't hard.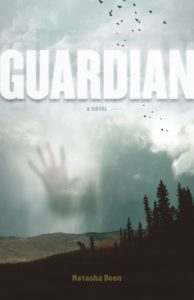 What's tough is surviving the insults and pranks of Serge Popov, high school thug and the dumbest jock to ever set foot in Dead Falls, Alberta. When she finds him dead from alcohol poisoning and later discovers his spirit trapped in her room, she figures it's a case of divine justice. Let the jerk rot. But someone—or something—has a different agenda. If Maggie doesn't help Serge cross over, she'll die at the hands of the otherworldly entity that's taken an interest in the deceased bully. As she digs into the circumstances of Serge's death, now classified a murder, she'll uncover the secrets hidden by the world of the living and the wonders revealed by cities of the dead—if her investigation doesn't kill her, first.